Introduction of SG4M 210A Integral High voltage Connector
SG4M series integrated wire connectors(3-hole one-piece connectoer) have the advantages of singleseat sealing, superior shielding and high wiring efficiency.
The product serves as a bridge between the motor and electric controller, its integrated structure saving more internal space for the electrical equipment.
With its 360° shielding and single-seat sealing, it can realize noninterference in the electrical control zones of the motor after assembly.
Its insert injection process can ensure the terminal connection strength.
It meets the requirement of RoHS.
EV high-voltage and high-current connection between motor controller and motor.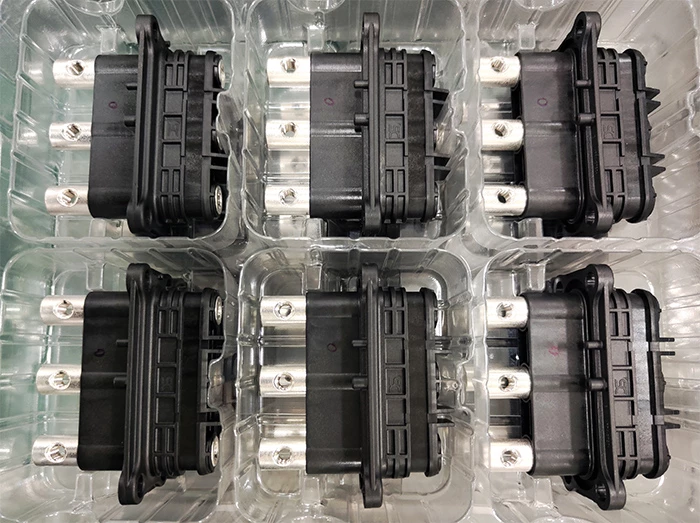 Parameters of SG4M 210A Integral High Voltage Connector
Description
Item No.
SG4M-3-L
Electrical Performance
Rated voltage
850V DC
Withstand voltage
3000V AC
Rated current
210A
Insulation resistance
5000MΩ
Mechanical Properties
Pins
3pins
Mating cycles
50Times
Vibration class acc. To
QC/T 1067.1-2017 V3
Raw Material
Insulation parts
PPA-GF30
Shielding
Stainless steel
Rubber parts
Silicon rubber
Copper butt
T2
Environmental Performance
Operating temperature
-40℃~150℃
Protection Grade
IP67、IP69K
Salt Spray
480h
Get Your Sample
If you are interested in our products, please feel free to send an email to info@sailtran.com or fill out the message form below. Our sales representative will contact you within 24 hours.