Introduction of energy storage connector
SS1 12mm type energy storage connector, mainly including 250A, 300A, 350A/400A series. It has functions such as key position error prevention, positive and negative color error prevention, 360° rotation, etc., corresponding to high-voltage cables of 70mm², 95mm² and 120mm².
It is suitable for high-voltage connection between energy storage cabinets, energy storage stations, mobile energy storage vehicles, photovoltaic power stations and other components.
Features of energy storage connector
It has a secondary locking function, which is safer and more reliable;

The product supports crimping the terminal first and then threading the assembly. If the power terminal is damaged, the plug can be replaced separately without replacing the cable;

It has the function of key position error prevention, and meets the requirements of 360° blind insertion. After insertion, it can realize 360° rotation to avoid user misoperation to the greatest extent;

Color error proof, easy to identify battery poles;

Optional protection grade IP67;
Installation size of energy storage connector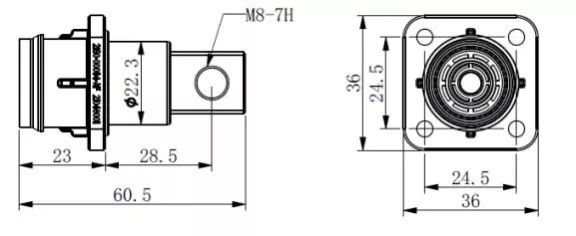 Parameters of SS1 250A-400A Energy Storage Connector
Mechanical life
100 times
Vibration level
QC/T 1067.1-2017 V1




Applicable cables
70mm²
95mm²
120mm²
Rated current
250A
300A
350A/400A
Rated voltage
1500V
Withstand voltage
4000V
Insulation resistance
5000MΩ(drying) / ≥300MΩ(RH 95%)
Protection class
IP67 (optional)
Operating temperature
-40℃~125℃
Temperature rise
45K
45K/50K

Salt spray level
Neutral salt spray: 48h (unsealed)/ 480h (sealed)
Shell material
Nylon
Sealing parts
Silicone Rubber
Contact parts
Silver plated copper
Get Your Sample
If you are interested in our products, please feel free to send an email to info@sailtran.com or fill out the message form below. Our sales representative will contact you within 24 hours.