350A MSD maintenance switch introduction
SS3 series products are manual maintenance switch connectors, suitable for battery packs in energy storage systems, and are devices for manually cutting off power supply in high-voltage systems. The power terminals and high-voltage interlock signal terminals of the product all use chip contacts. The plug is equipped with a power-assisted handle locking structure and a two-stage separation structure. It has high-voltage interlock function and CPA function. After the plug is mated, it meets the IP68 waterproof level.
The shell of the product is made of double-hex nylon + glass fiber material, the contact parts are copper alloy plated with silver, and the connecting copper bar is connected to the preset M8 stud of the socket. It has the advantages of convenient operation, reliable connection, small size, low cost, and meets the requirements of UL4128 certification.
350A MSD maintenance switch opening size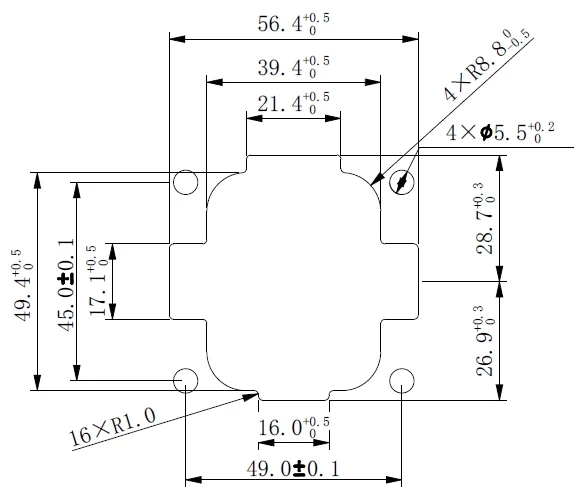 Parameters of SS3 350A MSD energy storage system maintenance switch
Mechanical performance
Mechanical life
200 times
Vibration level
QC/T 1067.1-2017 V1
Connection method
Bolted
Electrical performance
Rated current
350A
Rated voltage
1500V
Voltage withstand
Not less than 5000V DC
Insulation resistance
≥5000 MΩ (normal temperature and humidity); ≥200MΩ (damp heat)
Environment performance
Protection class
IP68(1m water depth 24h)
temperature class
-40℃~125℃
Flammability rating
UL94 V-0
Salt spray level

Neutral salt spray 480h (after the socket is installed and the plug and socket are fastened)

Material Description
Insulation parts
25% glass fiber nylon
Sealing parts
Silicone Rubber
Contact part
Silver-plated copper alloy for power terminals; tin-plated copper alloy for signal terminals
Get Your Sample
If you are interested in our products, please feel free to send an email to info@sailtran.com or fill out the message form below. Our sales representative will contact you within 24 hours.