Congratulations to Saichuan Electronics' SS1 series energy storage connector products for obtaining CE certification, the certification date is 2022.11.21, and the validity period is 5 years. The specific product model is:
SS1-W120Y-AF/SS1-W10Y/W16Y/W25Y/W35Y/W50Y/W70Y/W95Y/W120Y-AF/BF/A/B&SS3-3F&SS3-1-2MF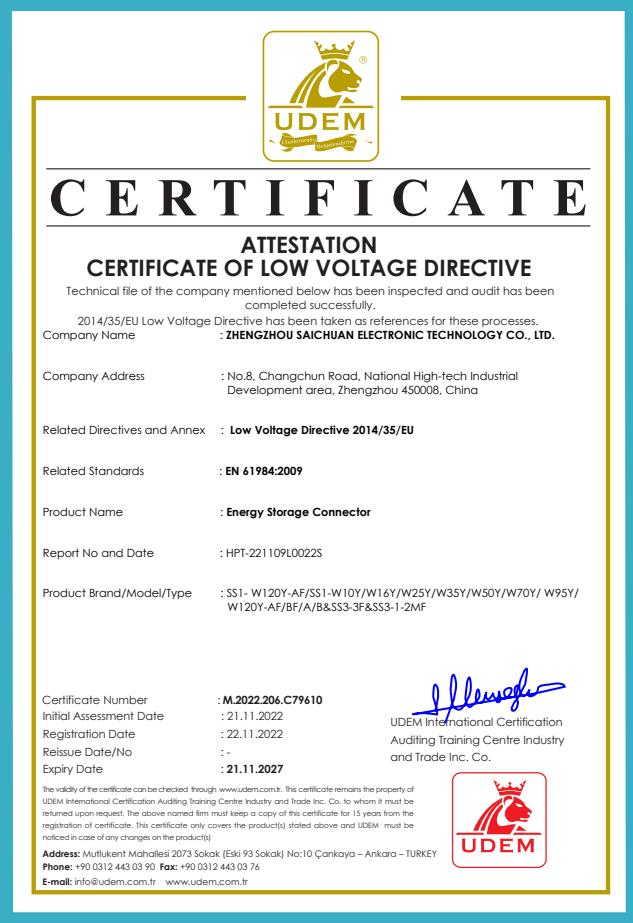 Up to now, Saichuan electronic energy storage connector products have obtained TUV, UL, CE certification, and these certifications strongly prove the reliability of product quality.
Saichuan electronic energy storage connectors are used for positive and negative high-voltage connections between battery packs in chemical energy storage systems.
Install energy storage systems quickly, safely and cost-effectively for applications up to 1,500 V and 400 A. There are a variety of models to choose from, which can adapt to high-voltage cables with different wire diameters from 10mm² to 120mm². Our energy storage connectors have obtained TUV, UL, CE certification. In addition, we have also developed copper bar connectors and MSD manual maintenance switches for your choice.
Saichuan Electronics has advanced crimping technology and equipment, can provide energy storage connector with integrated cables, and tailor-made energy storage connector harnesses for you according to drawings.